Who are we?
We are a non-profit organization that provides an opportunity for people of all ages to learn contemporary, traditional and historic English dances in a creative, fun-filled environment.
Our classes are a great place to learn new or fine tune existing dance skills. We hold weekly classes during our Fall and Winter terms. Our advanced class meets twice a month throughout the year. It is a place for more experienced dancers to focus on mastering complex dances.
Dances vary from simple to challenging and are taught by talented instructors. Beginners are always welcome to join our general class as our experienced instructors will ease them into learning the patterns and steps that make for joyful dancing experiences. Partners are encouraged but not necessary as we dance in non-gendered sets.
We are part of a world-wide community of folk dance organizations through CDSS, and we are twinned with the Hawk Green Folk Dance Club in Cheshire, England.
What is English Country Dance?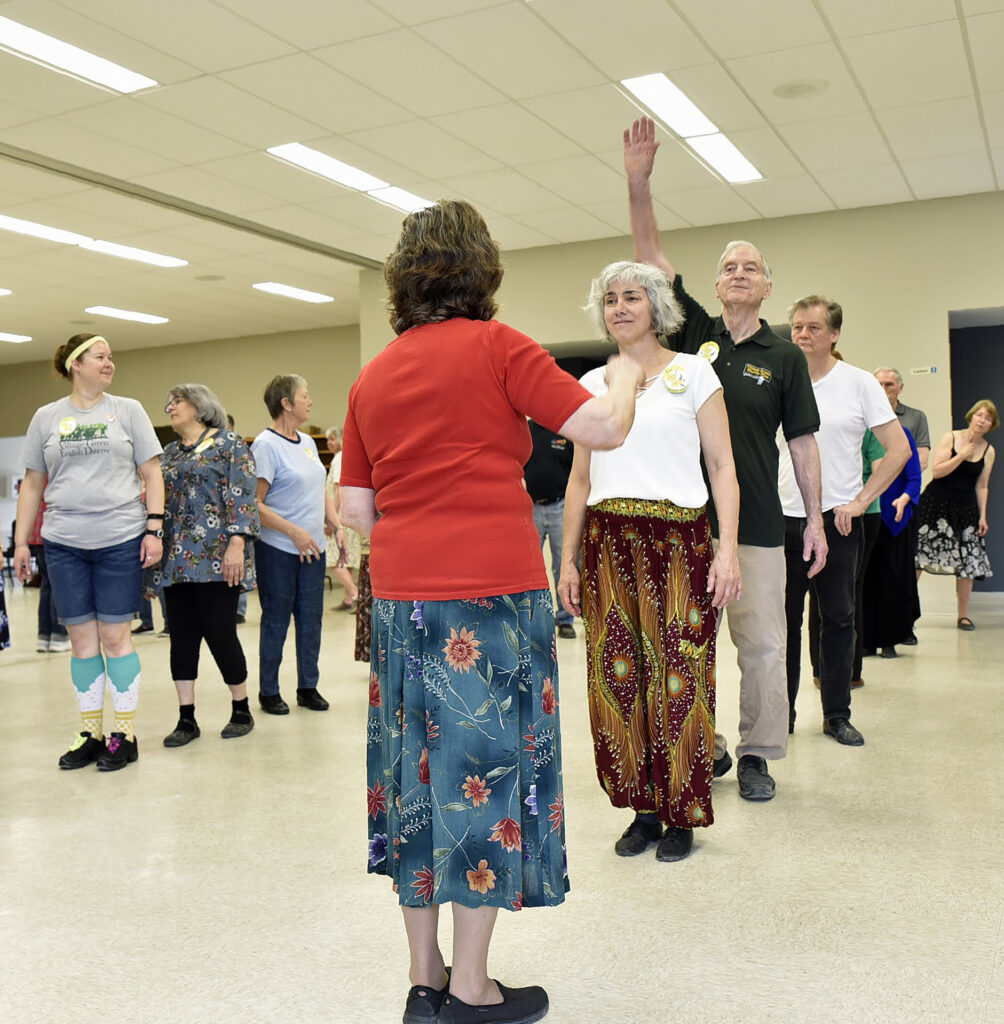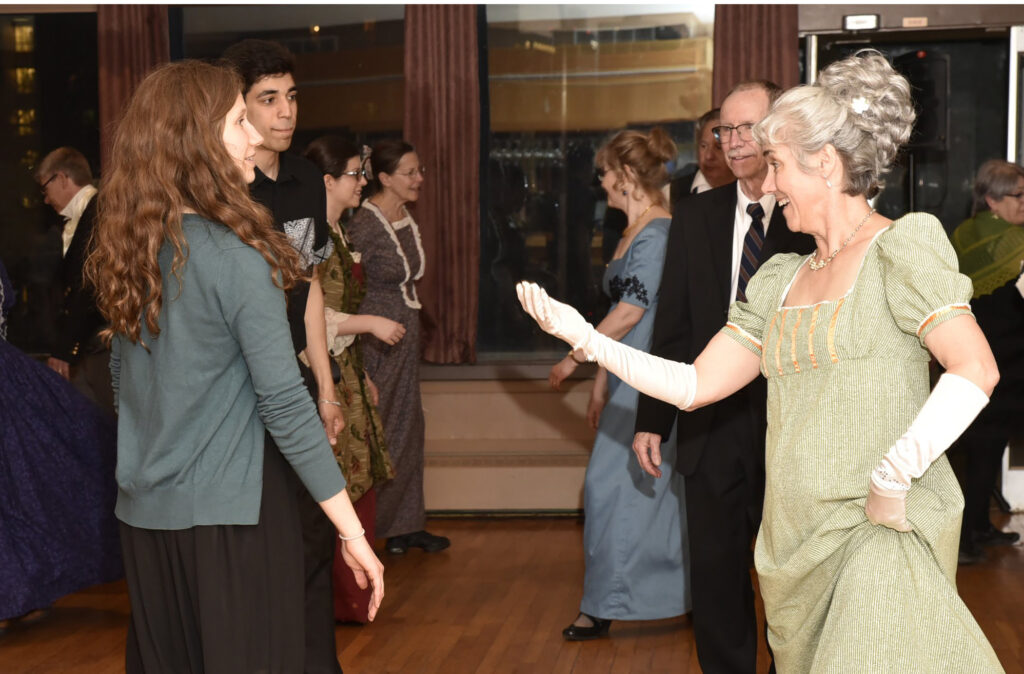 English Country Dance is a form of social folk dance, originating in Renaissance England. It is the precursor of several other folk dances, including contra and square dance.

Most commonly, the dances are in long ways sets and progressive. Multiple sets of pairs form two long lines, pairs travel along the lines, meeting new pairs and repeating the series of dance figures a number of times. Each dance is prompted by an Instructor. The dancing is friendly and the atmosphere is informal. If you've seen a Jane Austen film, you've seen English Country Dancing. Wonderful new dances and tunes are being written all the time; this includes the work of some of our talented instructors!

Class dress is casual and comfortable, with shoes (not street shoes) for dancing on a wooden floor. On special occasions (biannual Ball and yearly Holiday Dance), some dancers dress in costume. This is an added bonus but not mandatory as many dancers prefer regular attire.
Becoming a Member
We appreciate all dancers and encourage new members to join whatever their age or dancing skill.
Membership costs $30 per year, and is renewed annually. Each member is eligible for reduced drop-in and special event fees, can be elected to the Executive Committee, and can vote at the Annual General Meeting, held once a year.
Membership is necessary if you pay for a term or year's worth of classes. All annual membership fees are to be paid up at the beginning of the fall term.
Annual Membership: $30 ($15 if you register during the Winter Term)
Intermediate/General Class Fall Term: $70
Intermediate/General Class Winter Term: $70
Advanced Class Fall and Winter Term: $70
Member drop-in rate: $8
Non-member drop-in rate: $10
Download a membership registration form:
2023/2024 Membership and Registration Form
Or pick one up in person during a weekly class.
We respect your privacy and do not share your information with anyone unless you give us specific permission to include you on our membership list. We distribute this membership list to our members to encourage communication among members. You have complete control about what information (if any) is included on the distributed list. We need written permission from you authorizing the inclusion of your name and contact information. Please check the appropriate boxes when registering to indicate your understanding and permission.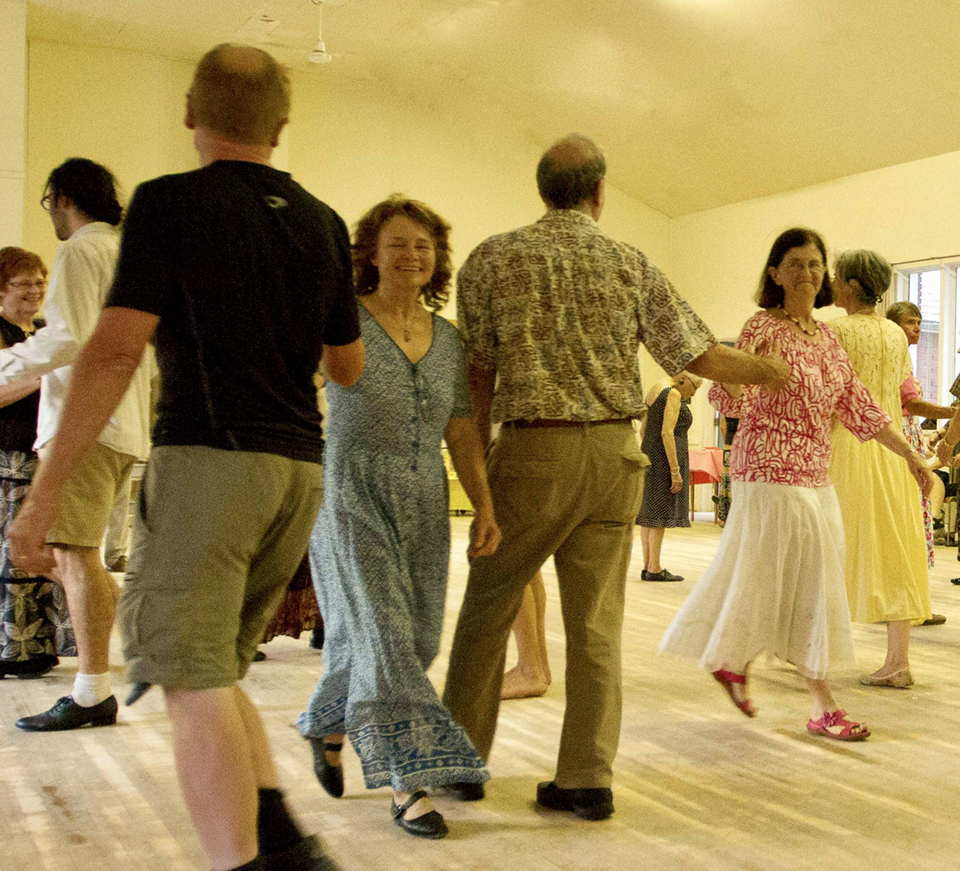 Class Structure
We have two levelled classes on Wednesday night – Intermediate and General.
Intermediate 7:15 – 8:15
General 8:15 – 9:30
The Intermediate Class (7:15 – 8:15) is for members who are capable of dancing level 2 – level 3 dances. Individuals need to be able to sustain a moderate level of physical activity, to follow and retain instructions and to respond quickly to cues. The criteria outline in greater detail what this involves. Basically, this class will give dancers the opportunity to work on the finer details of basic figures, learn new and more complex figures and work on and enjoy dancing more challenging dances.
Doors open at 7:00. Dancing starts promptly at 7:15.
---
---
---
The General Class (8:15 – 9:30) will be for all who are capable of dancing level 1 and some level 2 dances.  A moderate level of physical fitness and the ability to follow instructions are necessary. Basically, this class will give dancers the opportunity to concentrate on basic figures and focus on dances that suit the purpose of the class.  That purpose is to provide a sound foundation for all dancers, as well as an opportunity to enjoy meeting and dancing as a group.   
Doors open at 8:00. Dancing starts promptly at 8:15.
Initially, all newcomers are expected to join the General class. As they become proficient and if they desire, they will be able to join the Intermediate class. Anyone who is interested in participating in the Intermediate class is expected to meet these criteria.
Dancers in the Intermediate class are welcome and encouraged to stay for the General class.
There is no cost difference if you come for one or both classes.
Our History
David Williams, who was involved in various art and culture groups in Winnipeg, attended Pinewoods Dance Camp in the early 1970s. This camp is just outside of Boston, MA and is organized by CDSS. His close friend and fellow dance enthusiast, John Trevenen, went to the camp the following year.
In 1975 a Folkways concert featured the British Isles. John Trevenen gathered together some dancing friends and they performed English country, Morris and Maypole dances. The dancers enjoyed themselves so much they gathered occasionally in the following year and a half. When dancing outside one dancer commented how great it was to dance on the green and suggested 'Village Green' as a name. In December 1976 the WSO Christmas Fantasy Show featured Village Green dancing a suite of English Country dances put together by John. Performing in the early years was an integral part of what the group did. Village Green performed numerous times at the Winnipeg Folk Festival, beginning in 1977, at Folkorama as part of the British Pavilion, Mug Pub, at the Market Square in the Exchange District, at the Festival of Nations, Heritage Days, The Herb Festival at the Conservatory, for the Jane Austen Society and a for variety of other groups and occasions. Providing entertainment for seniors at assisted living and PCHs has also been a focus.
The group was loosely organized until 1978 when the constitution was written by David Williams. Michael Lynch was the first President of Village Green. Our newsletter, The Town Crier is still being published about 4 times a year. The AGM is held annually in May.
We began a dance class every second week in the fall of 1976. It wasn't long before we were dancing weekly. In these early years we moved our dancing location quite often. We began dancing at The Contemporary dance studio, moved to Crescent Fort Rouge, St. George's Anglican Church, Grosvenor School and currently dance at Harrow United Church. We held our first weekend workshop in early 1981 with guest instructor, Pat Talbot and our first ball in 1986 at The Hotel Fort Garry. We now hold a workshop one year and a ball in the alternate year.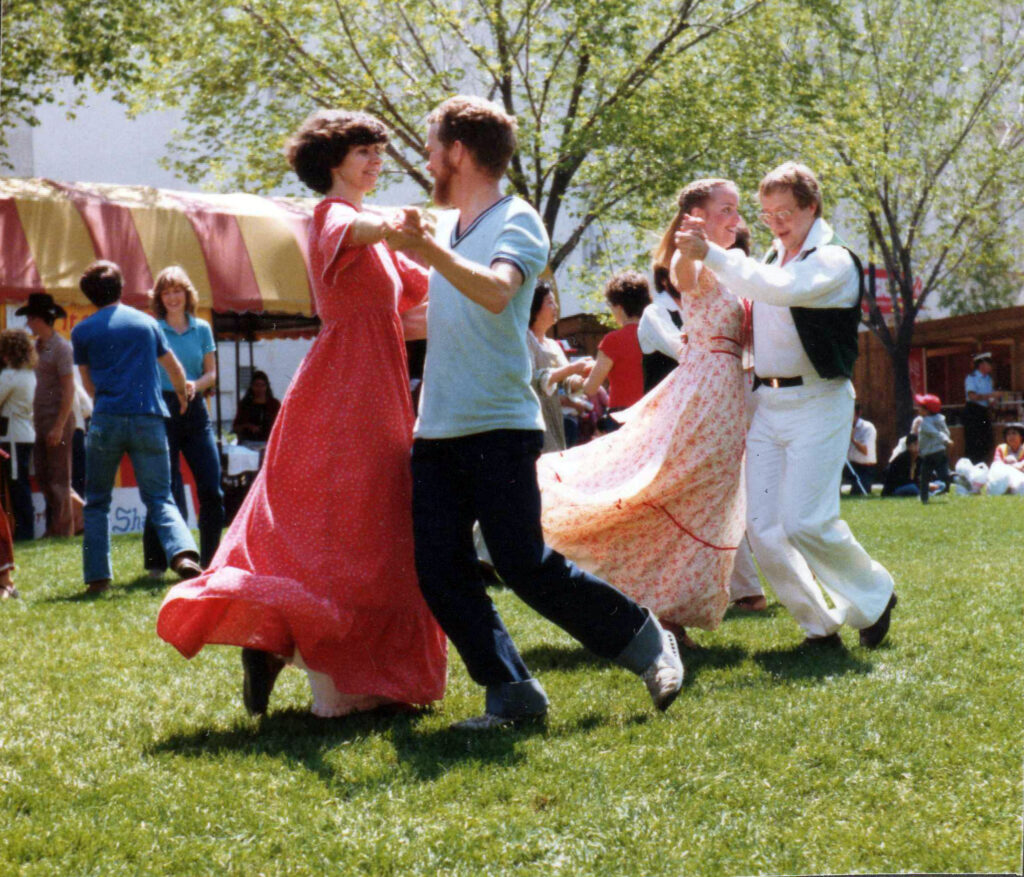 In the beginning we danced only to recorded music. In the spring of 1983, 2 members played a couple of English dance tunes at the ceilidh of a workshop. That December, a group of three played about half the dance program…. And thus began the Fine Companions, our house band.
We now have a teaching team and musicians who play for us every second week.
Village Green encourages members to develop their dancing and music skills by attending workshops throughout North America. We have a scholarship fund to support this objective, and we run outreach programs to introduce the greater community to this vibrant dance tradition.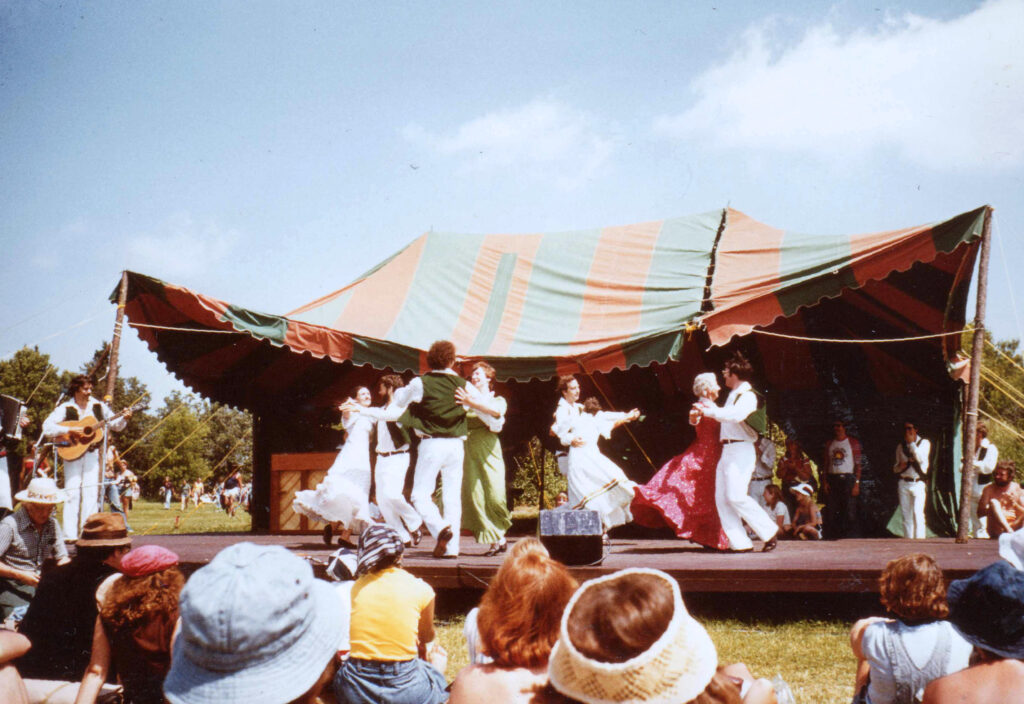 Our Instructors
Jeannie Gilbert
I was reluctant to start English Dancing… my early years were spent in ballet, tap, Greek and national dancing etc. and my impression was that English Dancing was for school children. How wrong I was, and how grateful I am to Elizabeth Clutton-Brock (former dancer and band member with VG) that she came to me, as I was working in my garden one day, and said "I have to take a friend to the next VG dance social, so you're coming."
Another friend, Caroline McDowall, and I attended that dance evening and we were both hooked. I have danced whenever possible ever since. Some 4-5 years later I decided I was ready for the challenge of teaching dances to the group. I strive to give directions clearly in a minimum of words and sometimes I succeed!
Liz Goossen
The move from dancing ECD to teaching was a natural progression for me. By the time I began teaching for Village Green I had already completed level 1 of the RSCDS teacher training. I completed the second level in 1983. As well as loving the music and how the figures fit the music I love to share my enthusiasm and joy of the dance. I began devising dances at the same time as I started teaching. The impetus for devising a dance is usually a special occasion… an anniversary, a birthday, a retirement, etc. I began composing in 2007. For me the process of writing the music and then devising the dance is a very organic one. In 2007 the dance was devised first and the music composed second. Now generally it is the other way. I think about the person and the occasion, sit down at the piano and start noodling. Sometimes the music and the dance figures magically appear and presto the work is complete. Other times, either the tune or the dance is not quite how I want and much fiddling ensues before I am happy with the result. Teaching, dancing, playing music, devising dances and composing add a great deal of joy to my life.
Jackie Soble
The opportunity to teach English country dance was extended to me when a teacher said to me; "Would you like to try and teach one dance at class?" One dance, taught to a receptive class, was all that was needed to convince me that this was an avenue worth exploring. With guidance, and generous sharing of materials (books and records at that time), my abilities were honed. It is very rewarding to see the written dance come alive, and to observe the pleasure of the dancers as they master the figures and enjoy the wonderfully unique music. Historic dances are enjoyed once again, mixed with newly devised dances from many sources.
The pleasure of teaching has remained a highlight in my life.
Susan Stanton
I first saw English Country Dancing at the Winnipeg Folk Festival in 1977. It was love at first sight (and sound). When I returned from a five-month trip I sought out the Village Green Dancers and joined the group in March 1978. At that first class I remember dancing wonderful historic dances and the exhilaration of the Dorset Four Hand Reel. I went home and practiced and practiced ranting until I got it. I had the privilege of being taught by excellent instructors: John Trevenen, Robin Lynch and Elizabeth Goossen. In the early 80's I started teaching, with Liz providing excellent coaching. I have been teaching ever since! I have also been instrumental in the development of new teachers and outreach programs, as well as with an instructional video and how-to dance manual. My life has been immeasurably enhanced with the magic of English Country Dance.. It has been my pleasure and privilege to share my knowledge and joy with so many interesting and energetic people.
Molly Pind
In September 1981, I encountered Morris dancing for the first time! I was excited to discover that English "folk dancing" existed. I immediately joined the local Morris side. The next June, I attended my first Morris Ale and was introduced to English Country Dancing at the evening feast. Two types of English folk dancing! I was hooked for life. Since then, I have danced wherever I have lived: Toronto, ON, San Diego, CA, Cambridge, UK, and now Winnipeg, MB. I have even dabbled in a little English clog dancing and other folk dances with English roots.
I had been dancing with the Village Green Dancers since 2004 and have been one of the teachers since 2016. Dancing and teaching dances, old and new, allow me to share my love of English folk dance as well as help to keep it alive for all to enjoy for many years to come.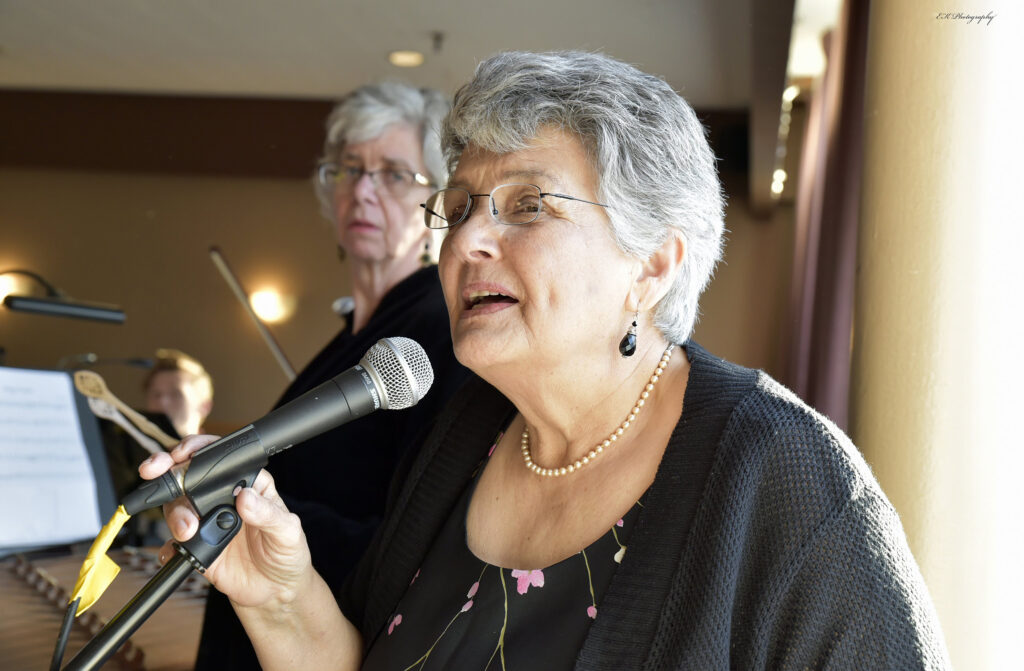 The Fine Companions
The Fine Companions is the Village Green house band and is composed of a talented group of musicians. Many of the band members are also instructors and dancers! They provide us with wonderful live music to accompany our various dances and demonstrations.
The band was grew out of a need for music and the joy of playing in the early 1980s, and that's kept them going ever since! The current band has members who have joined in almost every decade of its existence. Liz (founding member), Mark (joined 2006), Kevin (joined 2012), Liam (joined 2016), Ayla (joined 2018) and Emma (joined 2023).
Liz Goossen (dulcimer)
Mark McLearon (recorder & fiddle)
Kevin Scott (recorder, guitar & concertina)
Liam Berry (piano/keyboard)
Ayla Berry (fiddle)
Emma Bull (flute)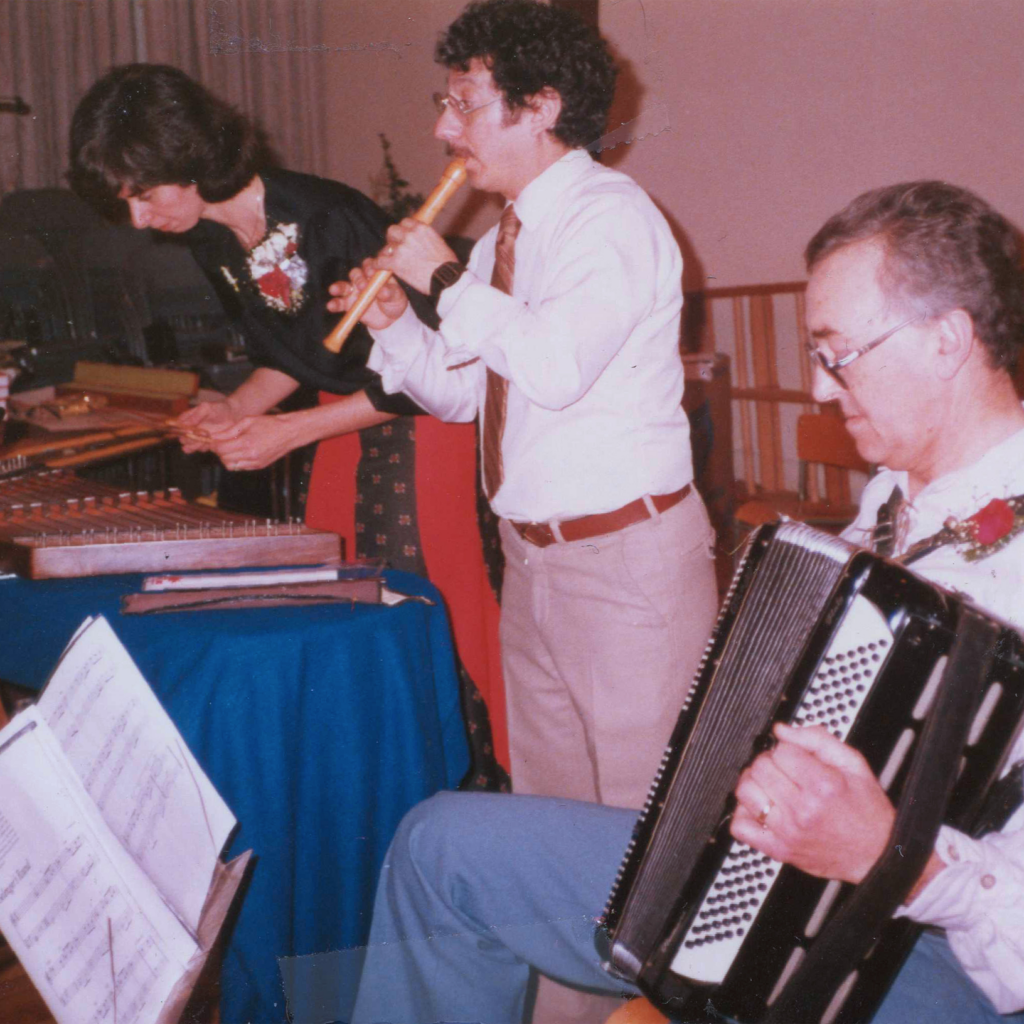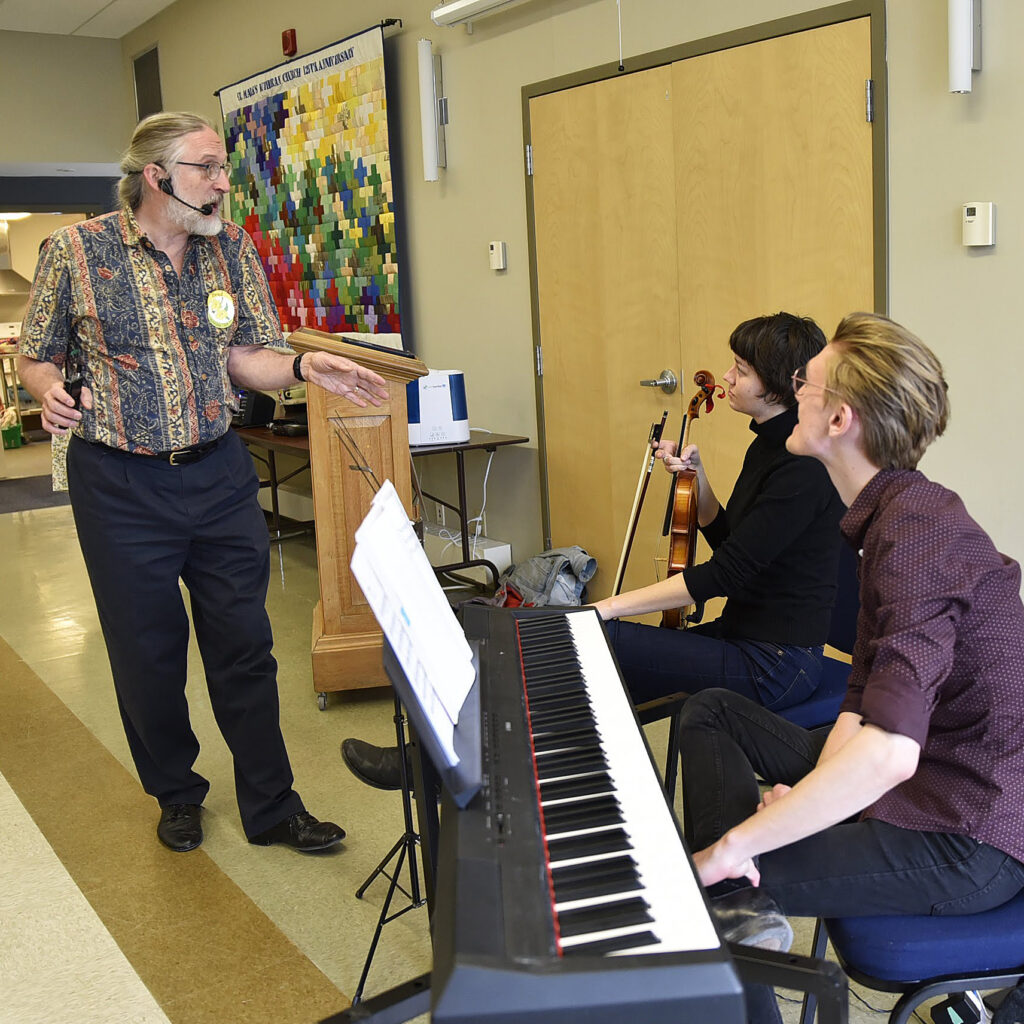 2022 Peacock Masquerade Ball
In April of 2022 we held our long-awaited Peacock Masquerade Ball – a masked ball originally scheduled for April 2020 that was a bit more masked than we had originally planned…
Many thanks to the teachers, musicians and dancers whose hard work resulted in a beautiful evening celebrating the joy of dancing.